Lake Leon
Lake Leon is a 28,000 acre-foot lake with great fishing, located seven miles southeast of Eastland. Lake Leon offers some of the area's best bass fishing. It is most commonly known for its largemouth bass fishing tournaments, the reservoir also supports excellent populations of channel catfish, sunfish, and white bass. There are two public boat ramps with camping areas, and four private camping & recreational areas. The Texas Parks and Wildlife website has detailed information and demographics about Lake Leon.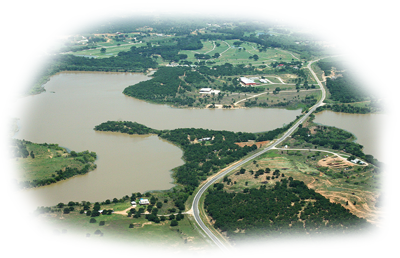 Eastland Lake
Eastland Lake is located north-west of downtown Eastland on FM 3101, and offers an excellent golfing experience at Lakeside Country Club. There is one gravel boat launch area near the bridge and several angler access points, including one at the dam. At 100 acres, it has plenty of water to support a variety of good sport fish populations, including largemouth bass, crappie, catfish, and white bass. There is a good, under-fished population of largemouth bass in this lake.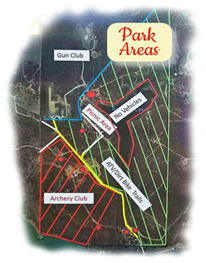 Ringling Lake
Ringling Lake and Park were originally built as a water stop for the Eastland. The line began in 1918 and was financed by John Ringling, of circus fame. Unfortunately, the circus never stopped at the lake. The line was abandoned in 1944 and the property was deeded as a permanent park to the City of Eastland.
Currently, ATV and dirt bike riders, along with members of the two recreation clubs, and oil/gas related personnel are allowed entry into the park. The public entry gate for ATV/dirt bikes is open daily from sunup to sundown weather permitting.
Lone Cedar NKA The Kingdom Course is a challenging 18-hole regulation golf course with the mission to further the Kingdom of God through outdoor activity. Playing along with Lake Leon, this wide-open course is scenic and is highlighted by relatively new Champion Bermuda greens that putt true and allow you the chance to roll a few in. The course is open to the public with carts available.
Stay right on Lake Leon in either Cabins or the RV Park. Enjoy fishing, swimming, basketball and tennis courts, as well as boating activities all in one place. On-site management with laundry room, restrooms, and large party rental facilities all on the property.
Come stay and relax with lakefront access on Lake Leon. Regular and Premium sites available with full hook-ups. Enjoy Picnic areas, fishing, boating, or take a short drive to the nearby golf course.
Relax at the Cove. Located across the bridge at Lake Leon 6 miles from Eastland. The Campground offers 24 sites with full hook-ups and Wi-Fi. There is a one room bunkhouse equipped with a kitchen and full bath for our guests who do not have a recreational vehicle. A laundry facility is provided as well with a full bath for the convenience of our guests.
Wandering Oaks RV Park
Eastland's newest RV Park is conveniently located in town just off of I-20 inside city limits. Best of both worlds with restaurants and shopping blocks away and a scenic view of wildlife. On-site management with full hook-ups, laundry room, and full-size bathrooms.
Conveniently located in Eastland Texas, at the dead-end on the south service road, Interstate 20, at exit 343. Inez Spring River Front Park offers swimming, fishing, hiking, picnicking, tent camping, bicycling, etc.
Chock-a-Block
Located at the upper end of the lake off FM 2214 with a two-lane concrete boat ramp and a maximum parking capacity of 50. Open all year long to the public.
Located right by the dam on FM 2461 with a one-lane concrete boat ramp with a maximum parking capacity of 25. Enjoy fishing, swimming, and boating. Open all year to the public with on-site management.